Kristen Stewart Moves Out After Cheating: Report – Celebrity Gossip Today!
Publication Date 30 July 2012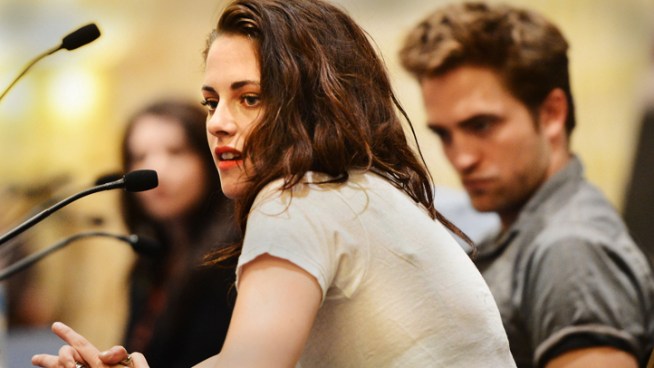 Getty Images for Lionsgate
Kristen Stewart has reportedly moved out of the home she shared with Robert Pattinson.
Kristen Stewart is moving out of the house she had shared with Robert Pattinson in the wake of her cheating scandal, a source told People magazine.
According to People, Pattinson asked his "Twilight" costar-turned-girlfriend Stewart to move, after their three-year relationship was rocked by the revelation that Stewart had had an affair with her 41-year-old "Snow White and the Huntsman" director, who is married with children.
People published a photograph of a U-Haul truck outside the home Saturday, presumably helping Kristen move.
The dust has slowly been settling in the scandal. People reported last week that the couple wasn't speaking and were estranged, after photographs surfaced that helped reveal the 22-year-old actress' affair with "Snow White" director Rupert Sanders.
Stewart followed up the revelation of her cheating with a public apology to her erstwhile boyfriend.
"I'm deeply sorry for the hurt and embarrassment I've caused to those close to me and everyone this has affected. This momentary indiscretion has jeopardized the most important thing in my life, the person I love and respect the most, Rob. I love him, I love him, I'm so sorry," she said in a statement.
Sanders issued an apology, too, saying he was "utterly distraught" by having hurt his family.

Read the rest of the article here: Kristen Stewart Moves Out After Cheating: Report – NBC4 Washington – Celebrity Photos, News, and DC Celeb Gossip

And elsewhere in the world of entertainment..

Jo Calderone (Lady Gaga) You And I Live – VMAs 2011
For its 35th anniversary the San Francisco Decorator Showcase returned to the Classic Revival mansion on 2020 Jackson Street, which had also been the home of the 1991 showcase. The honey-colored brick structure overlooking the Bay was designed in 1902 by German-born architect Julius E. Krafft (1855-1937), and is being offered for $17.5 million (as of June 2012.) Our Claudia Juestel, of Adeeni Design, gives us a tour…
Designer Geoffrey Bradfield sat with Claudia Juestel for an engaging interview over tea at New York's Hotel Plaza Athénée. The result is a whilrwind overview of a most glamorous life. Enjoy!
This residence at the Four Seasons Residences has recently gone on the market featuring dazzling views.
Designer Claudia Juestel takes you inside Villa Belvedere, the $45 million Belvedere home that was the setting for the 2012 Marin Diesngers Showcase.
DIFFA's (Design Industry Foundation Fighting AIDS) Dining by Design returned to the Galleria at the San Francisco Design Center for the 11th year. Once again the most exciting dining environments in town drew support for the Positive Health Program of the UCSF AIDS Research Institute.