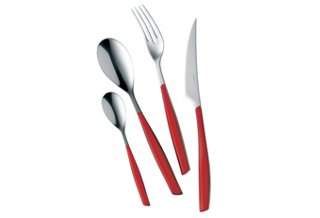 Chic and sophisticated flatware with a twist–these stainless steel utensils offer service for six and feature fun and colorful solid plastic handles. Casa Bugatti wants to change the way you think about your lifestyle–from your tabletop and kitchen to your morning espresso. The company's designers take basic, oft-used items–corkscrews, salad tongs, toasters, fruit bowls–and modify them to become a new concept in Italian style, breathing fresh life into the everyday.
Available from One Kings Lane
Price: $ 99.00


Can't get enough of the latest and greatest of SFLUXE? Please like us on Facebook and follow founder Damion Matthews on Twitter! And for more exclusive pics from the social scene, follow us on Instagram.
MORE FROM SFLUXE >>