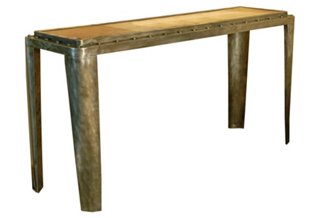 Click Pin it to share this product on Pinterest! Designed with nautical appeal in mind and rivet details along its apron, this brass-finished iron table has the character one would expect to see in a vintage sailing vessel. Blending elements of wood and metal, this table works as a modern accent to any home while still retaining a sense of warmth.
Available from One Kings Lane
Price: $ 399.00


Can't get enough of the latest and greatest of SFLUXE? Please like us on Facebook and follow founder Damion Matthews on Twitter! And for more exclusive pics from the social scene, follow us on Instagram.
MORE FROM SFLUXE >>