Striped Square Pouf, Multi
Publication Date 5 September 2012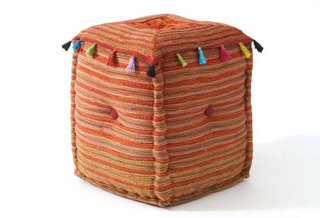 Rows of embroidery and spice-hued fabrics, tufted with a button on each side, are enhanced with mirrored paillettes sewn onto the top and multicolored tassels. The result is a vibrant pouf certain to enliven just about any room. Because of the handcrafted detailing, no two will be exactly alike.
Available from One Kings Lane
Price: $ 119.00
Facebook Comments:
Brit Morin is helping UNIQLO launch its San Francisco store with a new ad campaign and pre-opening appearance with COO Yasunobu Kyoguko and Refinery29.
Bita Daryabari requests help for Relief International's efforts in disaster relief in Iran after the August 11 earthquake.
Take a glimpse at a day in the life of Sobia Shaikh as she sources fabrics in Pakistan for her new ISLY handbag collection.
Ann Getty: Interior Style, the gorgeous new book by Diane Dorrans Saeks, is the must-have book of the fall.
Author Camille Paglia will be speaking about her new book, Glittering Images, in the San Francisco Bay Area on October 24, 2012.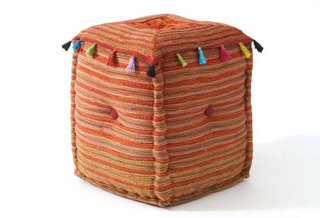 Striped Square Pouf, Multi
Rows of embroidery and spice-hued fabrics, tufted with a button on each side, are enhanced with mirrored paillettes sewn onto the top …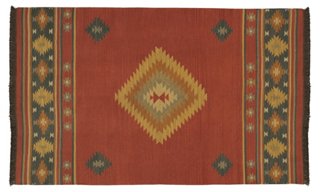 Jewel Rug, Red Clay
This hard-twisted flat-woven rug features Southwestern patterns that complement any setting, and is reversible, which literally doubles your decorating options. Handwoven by …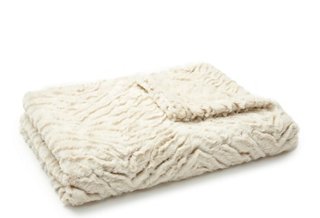 Zebra Baby Blanket, Cream/Camel
Click Pin it to share this product on Pinterest! This incredibly soft, faux-fur style blanket is …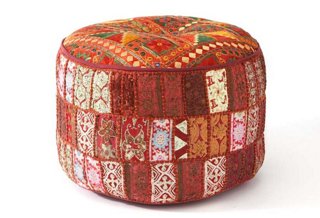 Patchwork Pouf, Red
A vibrant addition to any room, this pouf features patches of gloriously patterned fabrics along the sides and is topped with an equally …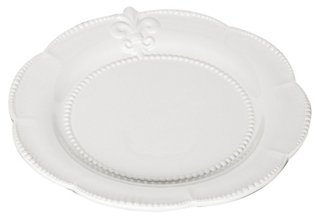 Fleur-de-Lis Charger, White
Bring rustic elegance to the table with this charger, rendered in a clean white porcelain that is finished with a textured fleur-de-lis design …