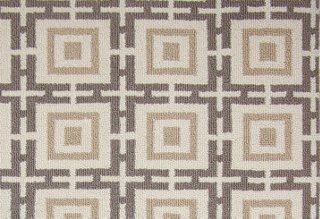 A large-scale, Eastern-inspired design is at once classic and contemporary. As such, this wool rug will work with a range of decor stylings. One of the most influential interior designers of his generation, David Hicks (1929-1998) has had a foremost influence on contemporary designers of both fashion and home. Early clients mixed aristocracy, media and fashion (Vidal Sassoon, Helena Rubinstein, the Duchess of Rutland and Mrs. Condé Nast). He married Lady Pamela Mountbatten in 1960 and was soon making carpets for Windsor Castle and decorating the Prince of Wales' first apartment at Buckingham Palace. Hicks first started to design patterned carpets and fabrics in 1963 when he found none on the market that he could use. His dynamic sense for color and pattern formed the basis of a style which was much admired and copied.
Available from One Kings Lane
Price: $ 1099.00


Can't get enough of the latest and greatest of SFLUXE? Please like us on Facebook and follow founder Damion Matthews on Twitter! And for more exclusive pics from the social scene, follow us on Instagram.
MORE FROM SFLUXE >>