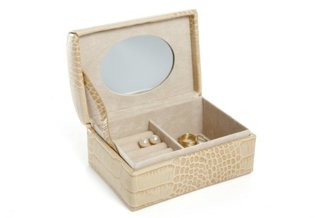 A case as beautiful as the treasures inside it. This round leather box boasts a deep storage compartment plus a section for rings and earrings; it also includes an interior mirror. Graphic Image has an odd point of pride Few people recognize its brand name. Instead, the allure lies in the company's instantly recognizable quality and style–in its stylish designs for travel and the home. This sophisticated selection of opulently textured leather, patent and canvas travel cases, wallets, journals and accessories enhances your life–at home or on the road–with the peerless power of classic style.
Available from One Kings Lane
Price: $ 25.00


Can't get enough of the latest and greatest of SFLUXE? Please like us on Facebook and follow founder Damion Matthews on Twitter! And for more exclusive pics from the social scene, follow us on Instagram.
MORE FROM SFLUXE >>