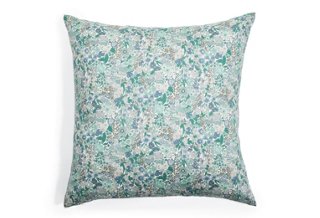 Charm abounds in this exquisite floral pattern. Bursts of deep-teal foliage accent the muted shades of the botanical design. Insert included. Liberty of London's design studio creates new prints and reworks its classics every season. New York-based designer Julian Mejia uses these iconic textiles to bring whimsy, vision, and a nod to classic glamour to the home. Born in Columbia and raised in New York, he worked in Paris as a ready-to-wear designer and illustrator in the studios of Claude Montana and Thierry Mugler. With his signature sense of color, movement, and silhouette, Julian incorporates the Liberty of London aesthetic to create memorable statements for your home.
Available from One Kings Lane
Price: $ 55.00


Can't get enough of the latest and greatest of SFLUXE? Please like us on Facebook and follow founder Damion Matthews on Twitter! And for more exclusive pics from the social scene, follow us on Instagram.
MORE FROM SFLUXE >>