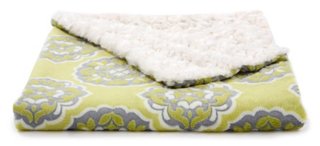 Click Pin it to share this product on Pinterest! Texture and pattern come together with the Annabella baby blanket. It will appeal to baby and parent alike, rendered with an incredibly soft faux-fur texture and a beautifully ornate motif. There's a reason Tourance blankets provoke oohs and ahhs at baby showers. A Tourance blanket has a heavenly texture that falls somewhere between flower petals, down, and faux fur, making it a must-have for the stroller, car seat, or just cuddling up at home.
Available from One Kings Lane
Price: $ 25.00


Can't get enough of the latest and greatest of SFLUXE? Please like us on Facebook and follow founder Damion Matthews on Twitter! And for more exclusive pics from the social scene, follow us on Instagram.
MORE FROM SFLUXE >>