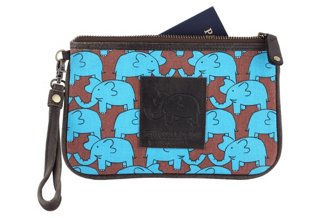 Click Pin itto share this product on Pinterest! The perfect size for keeping your passport, boarding pass and other important items close, this case will become a traveling essential. The wristlet allows you to carry it on you; the slim shape means it can be slipped into your bag when not in use. Rendered in sturdy cotton twill and finished with touches of leather. Sanna Hyder, designer and founder of ZH Collection Handbags, created the line to bring beauty, joy and inspiration to people's lives through functional, stylish products. Her globe-trotting childhood and eye for design is evident in the collection's bold, colorful prints and chic little touches.
Available from One Kings Lane
Price: $ 19.00


Can't get enough of the latest and greatest of SFLUXE? Please like us on Facebook and follow founder Damion Matthews on Twitter! And for more exclusive pics from the social scene, follow us on Instagram.
MORE FROM SFLUXE >>