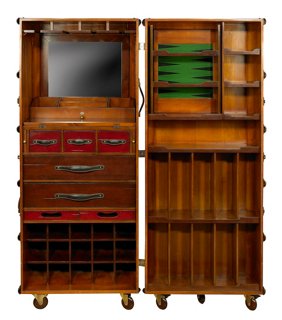 With the Stateroom Bar, fun and functionality coalesce into an impressive piece of historic proportions. Wheel in the bar, then park and lock it somewhere close at hand; made in the style of turn-of-the-century travel trunks, this piece is both substantial and mobile. Solid brass hardware and bridle leather accoutrements complete a hand-built, two-part bar inside a large trunk set on sturdy wheels. It includes a multitude of drawers, two serving trays, racks for both horizontal and vertical bottles, a mirror and foldout work shelf. Taking out the shelf unit on the right frees up a removable game board. Confidently evocative of time when a hunt required only a martini or a whiskey sour at hand! Specializing in an eclectic aesthetic, Authentic Models appeals to the curious and discerning. Inspired by the Age of Sail, exploration, science, and cartography, and with a commitment to quality and intrigue, Authentic Models offers a collection with the character of authenticity. Made by artisans using time-honored skills, these pieces enrich a room, and the people in it, with a profound spirit of history and nostalgia.
Available from One Kings Lane
Price: $ 1799.00


Can't get enough of the latest and greatest of SFLUXE? Please like us on Facebook and follow founder Damion Matthews on Twitter! And for more exclusive pics from the social scene, follow us on Instagram.
MORE FROM SFLUXE >>