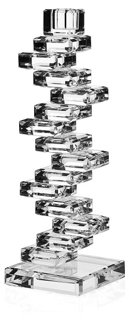 A series of rectangular pieces are stacked together in a zigzag pattern to create the Visual Stack candlestick by Godinger. Faceted and rhythmic, the resulting silhouette is complex and eye-catching. This piece will take pride of place on any table or mantelpiece. Or, group with other Godinger candlesticks to create a sparkling candlelight display. Whether you're hosting a festive soirée or preparing a daily family gathering, Godinger should come to the party. With the family company's legacy of fine silver and premium crystal and glassware behind it, this elegant tabletop selection brings whimsy, ease, and even a touch of exoticism to entertaining.
Available from One Kings Lane
Price: $ 35.00


Can't get enough of the latest and greatest of SFLUXE? Please like us on Facebook and follow founder Damion Matthews on Twitter! And for more exclusive pics from the social scene, follow us on Instagram.
MORE FROM SFLUXE >>