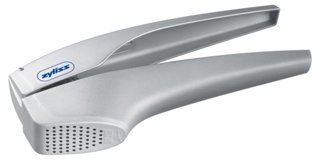 With its sleek design and generously-sized bowl which accommodates garlic cloves of all sizes, this garlic press is the easiest way to add the bold flavor of garlic to your cooking. Zyliss is truly the pinnacle of Swiss innovation. For more than 60 years they have been producing durable and beautifully designed kitchen tools and gadgets that are favored by chefs and home cooks alike, and are sure to be a part of your kitchen for years to come.
Available from One Kings Lane
Price: $ 19.00


Can't get enough of the latest and greatest of SFLUXE? Please like us on Facebook and follow founder Damion Matthews on Twitter! And for more exclusive pics from the social scene, follow us on Instagram.
MORE FROM SFLUXE >>