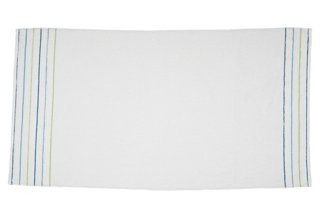 Refined satin stripes finish the end of this plush, sumptuously textured cotton beach towel. Made under the strictest environmental standards using only biodegradable vegetable dyes and materials, Espalma's lavish, inviting beach towels dazzle in a rainbow of hues, from soft ecru to brilliant violet, and an array of wonderfully textured patterns. Espalma proves that luxury and eco-awareness can go together, beautifully.
Available from One Kings Lane
Price: $ 25.00


Can't get enough of the latest and greatest of SFLUXE? Please like us on Facebook and follow founder Damion Matthews on Twitter! And for more exclusive pics from the social scene, follow us on Instagram.
MORE FROM SFLUXE >>