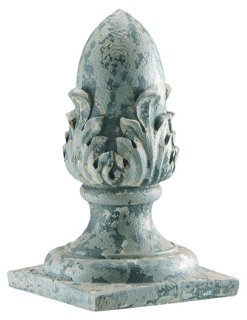 Here, an artful acorn finial with an intentionally distressed finish for an instant vintage character. Barreveld International's designs mix Old World élan with New World ingenuity. Their collection extends the elegance of your home aesthetic to the patio, veranda, and garden while also allowing you to bring the beauty of nature indoors.
Available from One Kings Lane
Price: $ 29.00


Can't get enough of the latest and greatest of SFLUXE? Please like us on Facebook and follow founder Damion Matthews on Twitter! And for more exclusive pics from the social scene, follow us on Instagram.
MORE FROM SFLUXE >>