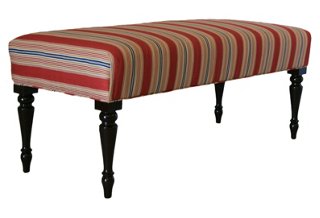 This four-feet-wide bench is upholstered in elegant striped cotton and rests on tapered, turned alder legs. Every piece of furniture in acclaimed designer Barclay Butera's collection is handmade, hand-upholstered, and hand-finished in the U.S. by craftspeople trained in the Butera technique. And while his furniture and accessories collection wears its classic European, Asian, and American influences beautifully, Butera enlivens each item with his own glamorous, vibrant aesthetic. He brings this same distinctive viewpoint to his collection of wall art beautifully in keeping with his design philosophy.
Available from One Kings Lane
Price: $ 749.00


Can't get enough of the latest and greatest of SFLUXE? Please like us on Facebook and follow founder Damion Matthews on Twitter! And for more exclusive pics from the social scene, follow us on Instagram.
MORE FROM SFLUXE >>